EXCITING NEWS!!!!
EZEKIEL OUT OF EXILE IS COMING TO ISRAEL!!!
EZEKIEL OUT OF EXILE will be performed live with orchestra, choir and soloists together with the film, in three different locations in Israel in October 2020.
Now 'Ezekiel Out of Exile' is available in film format, with subtitles in six different languages.  ( more languages coming!)                     
To order the film, please contact Ruth Fazal at ezekieloutofexile@gmail.com
Ezekiel Out of Exile tells the story from exile to redemption of the Jewish people, and was written by Ruth Fazal during a year of personal exile from Israel in 2017.
Ruth Fazal writes –
The videography that accompanies the live performance of 'Ezekiel Out of Exile' is designed to help us to meditate deeply on God's Word, as it depicts the destruction of the temple, the banishment of the Jewish people from their land, the effects of being in exile throughout history, and finally their return. The music and the film together enable us to experience the intense longing and the painful process of waiting to see the hand of the Lord move on behalf of His people, to bring them home.
The central text of the work is Ezekiel the Prophet's vision of the valley of the dry bones, seen during the time of the Jewish exile in Babylon. On either side of this text I have placed a Psalm; one that speaks of the pain of being in exile, and the other of the joy of redemption.
I find great comfort in the final words of Ezekiel's vision: "And you will know that I the Lord have spoken, and I have done it, declares the Lord" May this be the experience of us all!
TEXT OF 'EZEKIEL OUT OF EXILE'
"By the waters of Babylon, there we sat down. Yea, we wept when we remembered Zion. We hung our harps upon the willows in the midst of it, for there, those who carried us away captive asked of us a song, and those who plundered us requested mirth saying, "Sing us one of the songs of Zion!" How shall we sing the Lord's song in a foreign land? If I forget you O Jerusalem, let my right hand forget its skill. If I do not remember you, let my tongue cling to the roof of my mouth, if I do not exalt Jerusalem above my chiefest joy.
Aich nashir et shir Hashem al-adamat nechar?
How shall we sing the Lord's song in a strange land?"
(Psalm 137: 1-6)
"The hand of the Lord was upon me, and he brought me out in the Spirit of the Lord and set me down in the middle of the valley; and it was full of bones. He led me to and fro among them, and I saw a great many bones on the floor of the valley, bones that were very dry. Then He asked me, "Son of man, can these bones live?" And I said, "Sovereign Lord, you alone know." Then he said to me, "Prophesy to these bones, and say to them, Dry bones, hear the word of the Lord. This is what the sovereign Lord says to these bones: I will make breath enter you, and you will come to life. I will attach tendons to you, and make flesh come upon you, and cover you with skin. I will put breath in you, and you will come to life, and you will know that I am the Lord." So I prophesied as I was commanded. And as I was prophesying there was a noise, a rattling sound, and the bones came together, bone to bone. And I looked, and tendons and flesh appeared on them, and skin covered them. But there was no breath in them. Then he said to me, "Prophesy to the breath; prophesy, son of man, and say to it, This is what the sovereign Lord says: Come breath from the four winds, and breathe on these who are slain, that they may live." (me-arba ruchot bo'i haruach)
So I prophesied as I was commanded, and breath came into them… Then he said to me, "Son of man, these bones of the people of Israel. They say, 'Our bones are dry, and our hope is gone, and we ourselves are cut off.' Therefore prophesy, and say to them, This is what the sovereign Lord says: My people, I am going to open your graves and bring you up from them. And I will bring back to the land of Israel. Then you My people will know that I am the Lord, when I open your graves, and bring you up from them. I will put my Spirit in you, and you will live, and I will settle you in your own land. Then you will know that I the Lord have spoken, and I have done it, declares the Lord." (from Ezekiel 37:1-14)
"When the Lord restored the fortunes of Zion, we were like those who dreamed. Our mouths were filled with laughter, and our tongues with songs of joy. Then it was said among the nations, "The Lord has done great things for them." The Lord has done great things for us, and we are filled with joy. Restore our fortunes, O Lord, like streams in the Negev. Those who sow in tears will reap with songs of joy. Those who go out weeping, carrying seed to sow, will return with songs of joy, carrying sheaves with them."
(from Psalm 126:1-6)
Shir ha-ma'alot b'shuv Adonai
Et shivat tziyon hayinu k'cholmim
Az Y'maleh s'chok pinu, ulshoneinu rina
Az yomru va-goyim higdil Adonai la'asot im eleh
Higdil Adonai la'asot imanu, hayinu s'meichim. (Psalm 126:1-3 in Hebrew)
And you will know that I the Lord have spoken, and I have done it, declares the Lord." 
RECORDING DETAILS
SLOVAK NATIONAL SYMPHONY ORCHESTRA
LÚČNICA CHOIR
KIRK TREVOR: Conductor
LAWRENCE WILIFORD: Tenor (Ezekiel)
DANIEL LICHTI: Bass Baritone (God)
Ruth Fazal: Producer
Emil Niznansky: Sound Producer
Hubert Geschwandtner: Sound Engineer
Marian Turner: Recording Coordinator
Recorded at SLOVAK RADIO BRATISLAVA Studio 2
FILM PRODUCTION Aspiring Productions. Israel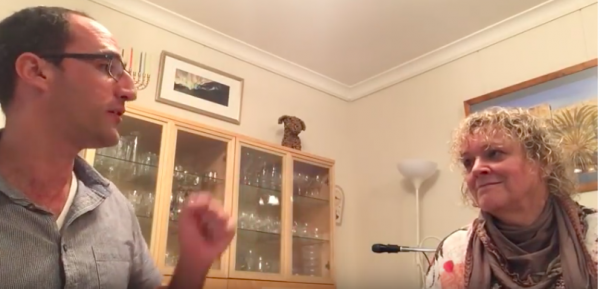 Ruth Fazal with Gil Pentzak, discussing the text of Ezekiel 37:14
Watch Now